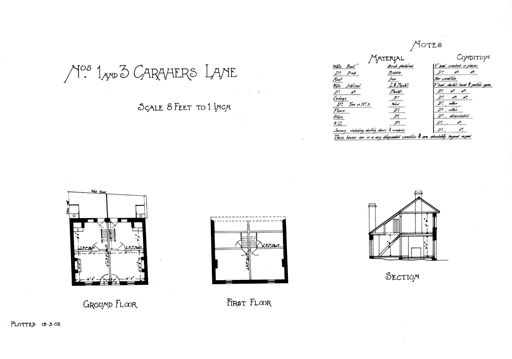 Architectural plans for 1-3 Carahers Lane
NSW Government Architect 'Plans and Photographs of Buildings Demolished 1902-1907'
Courtesy of the Mitchell Library
The double storey terrace at 1 and 3 Carahers Lane was constructed sometime between 1845-1848 by Publican William Massey as rental properties on land purchased from James and Sarah Byrne in 1837. They remained in the Massey family until their demolition in 1902.
Owners
James and Sarah Byrne
1837-1853 William Massey
1853-1855 Mary Ann Massey (nee Benson, wife of William Massey)
1855-1902 William and Mary Henson
Tenants
1848-1856 George Wilson (mariner, waterman and grocer), his wife Agnes and the first five of their 8 children, three of whom were born during the tenancy.
1857-1857 James Agnew French (free mariner/labourer) and his family.
1858-1858 John McCraw - labourer/coxswain
1861-1861 Hannah Watt, nee Watts, later Adams and Stride, (dressmaker) and her 3 daughters.
1863-1863 Timothy McNamara/MacNamara (labourer, hotel keeper), and his wife Ellen (nee Hollingsworth) and the first two of their 12 children. The second child, William, was born at home on 2nd July 1863.
1867-1867 George Wilson, a widower after the death of Agnes, and 7 children.
1871-1871 James Warlow (mariner, engineer), his wife Mary Ann and three of their four children, one of whom, Hannah, was born and died in 1872.
1877-1887 Thomas Hines (mariner/labourer), wife Elizabeth.
1888-1889 James Day
1890-1900 James Foy (confectioner) and his wife Margaret.
1901-1902 Thomas Moran (driver) and his wife Ester Maud Moran (nee Simpson)
The cesspit contained the following dateable items
Two teacups and a matching one saucer made by Edward and Charles Challinor & Co between 1862 and 1891.
A 'Gem' patterned blue tranfer serving dish and a small plate made by George Jones in Stoke-on-Trent between 1861 and 1873.
A tobacco pipe made by Charles Stewart in Glasgow between 1860 and 1861.
An 'Asiatic Pheasant' patterned 8 inch plate made by Evans and Booth between 1856 and 1869.
An Udolpho Wolfe Aromatic Schnapps bottle available in Australia from at least 1860.
A 'Lozere' patterned blue tranfer printed bowl made by Edward Challinor & Co between 1842 and 1867.

The demolition fill contained 39 nails, 4 pieces of roof slate, 55 pieces of roof tile, fragments of brick and window glass and a door hinge. There were 141 fragments of animal bone and shell: 15 pieces from molluscs, 71 from sheep, 26 from cattle, 19 from pigs, 1 from a chicken and 1 from a rabbit.

The remaining material included domestic wares, utensils, food containers, personal items, toys, toiletries and pharmaceutical items.