The Virtual Sydney Rocks Guidebook
5 Carahers Lane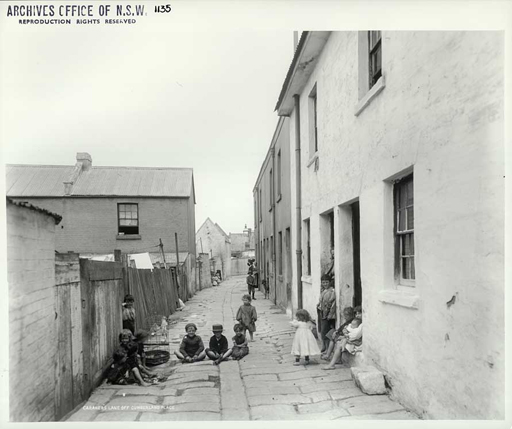 From left to right - Nos 11, 9, 7, 5, 3 and 1 Carahers Lane in 1901
NSW State Archives & Records
Digital Id: 4481_a026_000209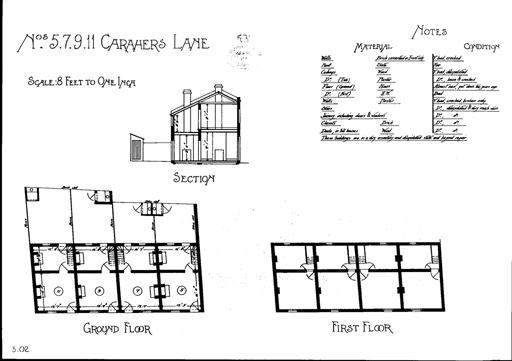 Architectural plans for 5-11 Carahers Lane
NSW Government Architect 'Plans and Photographs of Buildings Demolished 1902-1907'
Courtesy of the Mitchell Library
Constructed: c1845-c1856
Demolished: 1903
The double storey terrace at 5,7,9 and 11 Carahers Lane was constructed sometime between 1845-1856 and may have been built by Owen Joseph Caraher and his brother-in-law Patrick Hogan. (James Casey had bought the land from Edward McRoberts in 1854 for £150 and sold it to Caraher and Hogan in 1856 for £1200. It is possible that James Casey built the terrace before selling it to Caraher and Hogan.) The terrace was sold to John McDonald circa 1880.
Owners
Edward McRoberts
1854-1856 Miss Casey (presumed to be daughter of James Casey)
1856-1858 Owen Joseph Caraher and Patrick Hogan
1861-1880 Owen Joseph Caraher and Patrick Hogan
1880-1902 John McDonald
Tenants
1856-1856 Andrew (first name and occupation not given)
1857-1857 John Carmichael (baker)
1858-1858 William Webb
1861-1861 Phillis Boucher (nee Chester)
1863-1863 James Quinn
1867-1867 Patrick Guinan (porter)
1871-1871 Andrew Cummings (fireman) and his wife Mary Anne (nee McKew)
1877-1880 Michael Brynes
1882-1887 Michael Morgan
1888-1888 David Jenkins
1889-1894 Henry Moorehouse
1896-1898 Amy Walburn
1899-1902 William Leslie
The cesspit contained some dateable items including
A blue transfer bowl made between 1833 and 1847 by Copeland & Garrett
A tobacco pipe made by Duncan McDougall for the London tobacconist Thomas Milo between 1852 and 1870.

The demolition fill contained 60 nails, 29 pieces of roof slate and a floor paver. There were many fragments of animal bone and shell: 90 pieces from molluscs, 109 from sheep, 34 from cattle, 14 from fish, 7 from chicken and 2 from pigs.
Further Information